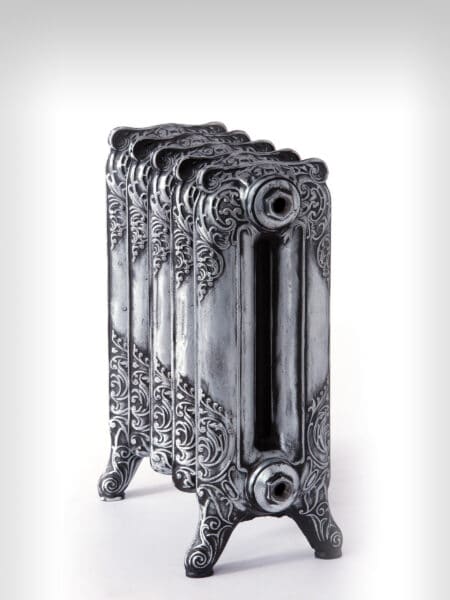 Leon 51
Radiadores Belle Epoque®
Sophisticated and elegant
Sophisticated and elegant
Leon 51
LEON es un radiador decorativo de fundición de dos columnas que se creó en Francia en torno al año 1890. Sus adornos florales muy detallados y la calidad de su producción térmica hacen de LEON un radiador sofisticado y elegante para los hogares que tienen una historia o mucho carácter.
LEON se divide en dos alturas, lo que le permite adaptarse a varias configuraciones de acondicionamiento y decoración. La versión 51 se adaptará perfectamente a nichos de baja altura
Details

standard colours: cast iron grey, matt grey, matt black, pearl black.

optional colours: bright white, antique black, antique copper, antique gold, all RAL colours.

H56,6 cm x W42,7 cm – 37,2 kg – 397W
H56,6 cm x W50,7 cm – 44,4 kg – 476W
H56,6 cm x W58,7 cm – 51,6 kg – 556W
H56,6 cm x W66,7 cm – 58,8 kg – 635W
H56,6 cm x W74,7 cm – 66 kg – 715W
H56,6 cm x W82,8 cm – 73,2 kg – 794W
H56,6 cm x W90,8 cm – 80,4 kg – 874W
H56,6 cm x W98,7 cm – 87,6 kg – 953W
H56,6 cm x W106,7 cm – 94,8 kg – 1033W
H56,6 cm x W114,7 cm – 102 kg – 1112W
H56,6 cm x W122,7 cm – 109,2 kg – 1191W

(Puissance EN442, 75/65/20, Δt 50°C)

Technologies

Highly resistant, cast iron has an extraordinary quality of heating, it has survived the centuries (used for heating over 150 years).

Made in Europe, the BELLE EPOQUE cast iron radiators come in several heights and finishes upon request. Available in Glossy White, Matte Black, Black Pearl, Cast Iron Gray or in such rarer finishes as Antique Gold and Antique Copper. They benefit from the latest manufacturing technology and are finished with fume-free, non-toxic and environmentally friendly paints.

Maximum operating pressure: 8 bars. Pressure testing: 10,50 bars. Maximum output: 110°C Exponent: n = 1.2775

Installation

Imperative : The quality of water is required to meet the standards VDI 2035 for the cast iron radiators : a low conductivity below 100 μS.PH, a TH of 0.2 and a PH between 7 and 10. More information on : 

https://www.cinier.com/es/belle-epoque/

CAST IRON model, run by professionals suitable for handling and weighing the model
We recommend to use sleeving kits to minimize installation completion.
Add to a wishlist
Create a new list in order to add products.