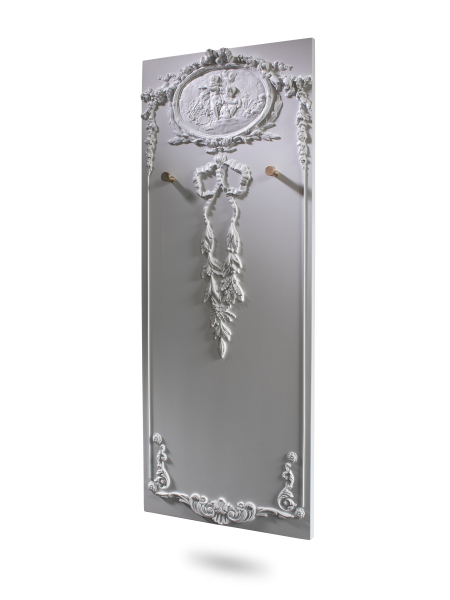 MOLIERE
Classic
Towel dryer radiator by the Artist Johanne Cinier.
Inspired by the classical Baroque universe of 16 / 17th century in France, whose complex aesthetic paradigm aims to surprise and move viewers.
An exceptional towel warmer, made in Olycal stone, with 2 chrome or white Dornbracht hooks or brushed gold THG hooks.
A perfect piece for classic Parisian Haussmann-style apartments, hotels or prestigious residences
Made in France.
DETAILS

Dornbracht hooks chrome + Olycal® stone.

Radiator available in 1 Dimension:

H 150 x L 60 cm x P 12 cm

Electric version: 750 W, available in fan version: 500W + 1000W, i.e. 1500W.

Hot water version: 803 W, available in warm air blower option version: 702W + 1000W = 1702W

Weight : 68 kg

Made in France in our French Ateliers.

TECHNOLOGIE

Olycal® Stone: After 7 years of research and development, Atelier CINIER have developed the Olycal® Stone: The olycal stone is a natural stone, crushed at the initial stage of production then restructured in the Cinier workshop following and exclusive patented process allowing heat to be emitted with high efficiency.
– The heating element: HYDRONIC model (European standards EN442-2, control by Cetiat laboratory) or ELECTRIC model (CE electricity).
– Boosted version: a new option that will allow you to increase the heating power by 40% in either the hot water or electric versions.
– Saving energy: while adapting the power of your radiator to your real needs, CINIER thermostat can reduce your energy needs up to 20%.
– Smart Hot Air Blower: quietly and efficiently, it realizes the rise of temperature in a very fast time(+ 2/3 ° C in less than 10 minutes in your bathroom). During the off-season, Smart Hot Air Blower will also heat the room very quickly without the hydronic version boiler on.
More information : FAQ Technologies CINIER

INSTALLATION

We advise 2 people

Electrical version connection:

standard 230 V supply – X3D thermostat included – Installation instructions on request

Hydronic version connection:

20 cm center-to-center distance with a 3 cm height difference between the start and the return – Notice and connection diagrams on request

Thermostatic valve, adjustment tee and flexible hoses are supplied as standard with each CINIER radiator
Add to a wishlist
Create a new list in order to add products.