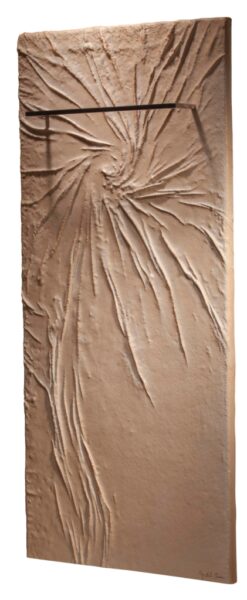 Cosmos Bain
Designer Towel Warmers
When the earth meets the sky.
When the earth meets the sky.
Cosmos Bain
An historic model in the CINIER collection that offers remarkable comfort. Also available in a made-to-measure (or horizontal) version.
Made in France. Quality and expertise since 1975.
Détails

Colours available: → Pigment colour chart

Radiator available in Size :

130 x 60 cm ( other sizes made to measure 150/185/200 cm).

Electric version: 650W

Hot water version: 696W

With a Cinier bath bar incorporated into the Olycale stone.

Other sizes are available on request (to the nearest cm).

Made in France in the CINIER workshops.

Made in France dans les Ateliers CINIER.

Technologies

Olycale® stone: After 7 years of research and development, the CINIER workshops have developed Olycale® stone, a natural stone, crushed and then restructured specifically to emit high performance heat.
The heating element: HOT WATER version (European standard EN 442-2) or ELECTRIC version (CE electricity quality and safety standard).
Energy savings: By adapting the power of your radiator to actual requirements and reducing the ambient temperature by a few degrees during the night or when you're away, CINIER control provides real energy savings of 20 to 30%.
For more information: FAQ CINIER Technologies

Installation

2 people required

Electrical connection :

standard 230 V supply – X3D thermostat included – Installation instructions on request

Hot water connection :

20 cm centre-to-centre distance, with a 3 cm height difference between flow and return – Instructions and connection diagrams available on request.

Thermostatic valve, adjustment tee and connection hoses are supplied as standard with every CINIER radiator.
Add to a wishlist
Create a new list in order to add products.