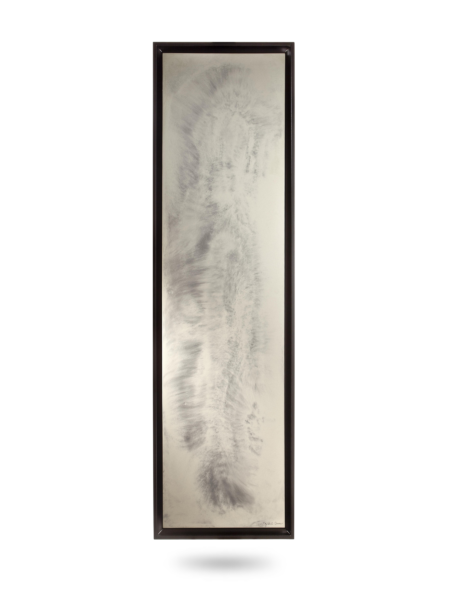 Marble
Contemporary
The pigments are diluted over the entire surface for a composition with transparency and delicacy.
Option LED frame is available.
Details

Available Colors: → CINIER Color Chart

Accessories included: 2 stainless steel connection hoses, 1 infrared remote control (black or white).

3 metal frame colours available: white, grey, black.

Radiator available in 1 Dimension: 190 x 54 cm. Weight: 51 to 58 kg.

Heating(75/65/20℃), V③ 3740 W + V② 2750 W + V①1700 W.

Reversible heating & cooling:

Heating output, low temperature(55/45/20℃), V③ 2170 W + V② 1450 W + V① 830 W.

Cooling output, cold(7/12/27℃), V③ 1600 W + V② 1200 W + V① 600 W.

Made in France

Techniques

Greenor is a two-pipe wall-mounted designer fan coil unit for high end residential applications, which is environmentally friendly and engineered comfort.
In summer, a constant flow cool air for a draft-free comfort with refrigerant- free liquid. In winter, it saves energy while optimizing low-temperature heating system (water at 50 °C) which operates with heat pumps with renewable energy or condensing boiler.
11,5cm/4-1/2" thick: the slimmest reversible fan coil on the market and absolutely noiseless (14DB). Decorative stone panels in Olycal® stone can be easily changed without taking any mechanical element apart. Front panels can be custom-made upon client's own design.
Greenor® is listed:

CE norms: EN 60335-2-30, EN 55014-1 (Ed 2006), EN 61000-3-2 (Ed2006) and EN 61000-3-3/A1 (Ed 1995/01): for the European markets.
UL 1995, issue:2011/10/14 Ed:4 UL Standard for Safety Heating and Cooling Equipment for the US market.
CSA C22.2 No. 236, issue:2011/10/14 Ed:4 Heating and Cooling Equipment for the Canadian market.

Installation

Required 2 person or 1 person with the appropriate mounting tools.

Connection to be made by a professional (plumber HVAC specialist).

Connection center: 4 cm – Installation instructions on request.
Add to a wishlist
Create a new list in order to add products.