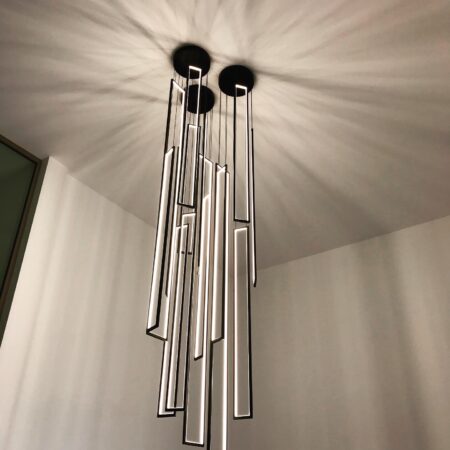 Cascade LT – 12
LED Lighting
Spectaculaire suspension LED. CASCADE LT est un luminaire sur mesure pour les intérieurs à grande hauteur de plafond En version 12 éléments, sa dimension peut varier de 4 mètres à plus de 12 mètres de haut.
Fabriqué en France par les Ateliers CINIER.
Details

Poids: 38 kg

H400 x L70cm – possible sur mesure jusqu'à 12 mètres de haut.

Cadre en acier: couleur noir mat.

Alimentation 230 V ou 120 V. CE – Transformateur listé CE/UL inclus.

Made in France.

Technologie

Composée de 5076 LEDs haute performance.

Pour la même puissance, le luminaire suspendu LT Cascade économise 75% d'énergie par rapport à un éclairage standard

Puissance d'éclairage: 32202 Lumens.

Consommation d'énergie: 720 W maxi.

LEDs claires (3000K * chaudes ou 4000K * neutres) Blanc chaud, subtil et minimaliste ou blanc neutre.

A raccorder un interrupteur / dimmer /0-10V, DALI ou autre sur demande.
Add to a wishlist
Create a new list in order to add products.