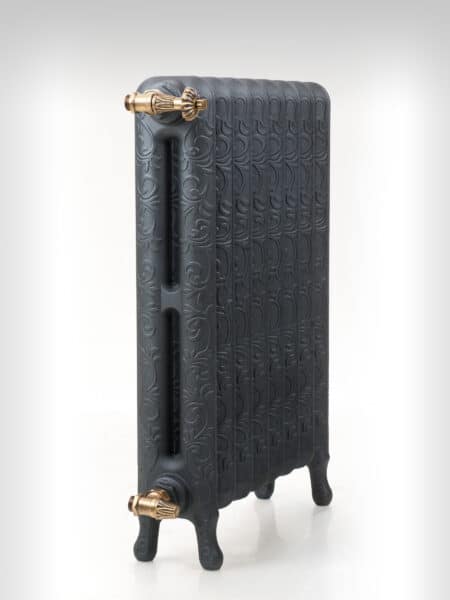 Jovis
Collezione Belle Epoque
Edwardian Era
Lo squisito design del radiatore in ghisa Jovis nasce in Inghilterra all'inizio del ventesimo secolo, ed è comunemente conosciuto in Gran Bretagna con il nome di 'Età Edoardiana': secondo il nome di re Edoardo VII, figlio della regina Vittoria e primo re della casata Sassonia-Coburgo-Gotha, ribattezzata nel 1917 Windsor. La forma slanciata e chiara del corpo è interamente decorata con ornamenti vegetali. Contrariamente agli altri modelli BELLE EPOQUE, il modello JOVIS si esprime con una decorazione più discreta, attraverso un'eleganza quasi depurata che viene accentuata dalla sua ridotta profondità di 136mm. Il modello riesce in questo modo a decorare uno spazio semplicemente con la sua bellezza classica.
Details

standard colours: cast iron grey, matt grey, matt black, pearl black.

optional colours: bright white, antique black, antique copper, antique gold, all RAL colours

H75,2 cm x W46 cm – 43,8 kg – 546W
H75,2 cm x W53 cm – 51,1 kg – 637W
H75,2 cm x W60 cm – 58,4 kg – 728W
H75,2 cm x W67 cm – 65,7 kg – 819W
H75,2 cm x W74 cm – 73 kg – 910W
H75,2 cm x W81 cm – 80,3 kg – 1001W
H75,2 cm x W88 cm – 87,6 kg – 1092W
H75,2 cm x W95 cm – 94,9 kg – 1183W
H75,2 cm x W102 cm – 102,2 kg – 1274W
H75,2 cm x W109 cm – 190,5 kg –1365W

( Puissance EN442, 75/65/20, Δt 50°C)

Technologies

Highly resistant, cast iron has an extraordinary quality of heating, it has survived the centuries (used for heating over 150 years).

Made in Europe, the BELLE EPOQUE cast iron radiators come in several heights and finishes upon request. Available in Glossy White, Matte Black, Black Pearl, Cast Iron Gray or in such rarer finishes as Antique Gold and Antique Copper. They benefit from the latest manufacturing technology and are finished with fume-free, non-toxic and environmentally friendly paints.

Maximum operating pressure: 8 bars. Pressure testing: 10,50 bars. Maximum output: 110°C Exponent: n = 1.2722

Installation

Imperative : The quality of water is required to meet the standards VDI 2035 for the cast iron radiators : a low conductivity below 100 μS.PH, a TH of 0.2 and a PH between 7 and 10. More information on :

https://www.cinier.com/it/belle-epoque/

CAST IRON model, run by professionals suitable for handling and weighing the model
We recommend to use sleeving kits to minimize installation completion.
Add to a wishlist
Create a new list in order to add products.