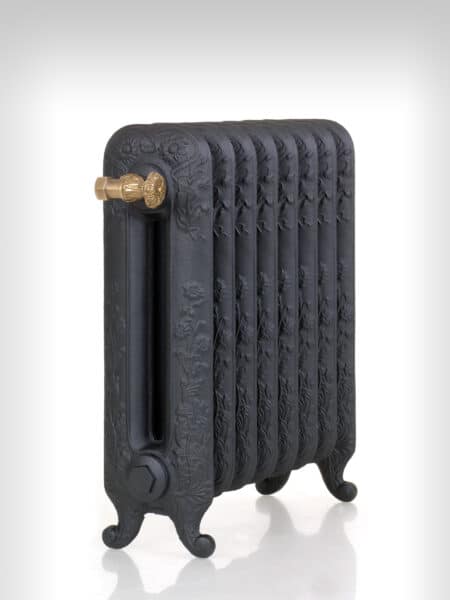 Rose
Radiadores Belle Epoque®
Elegant and romantic
Elegant and romantic
Rose
El radiador de fundición Rose fue creado en Francia en torno al año 1890. Su diseño con líneas curvas y redondeadas dispone de un elegante adorno floral muy distintivo específico para el período de la Bella Época. Con 2 columnas y una altura de 60cm, Rose se aloja fácilmente en todas las ventanas y difunde un calor muy suave y envolvente.
Details

standard colours: cast iron grey, matt grey, matt black, pearl black.

optional colours: bright white, antique black, antique copper, antique gold, all RAL colours.

H60 cm x W36,2 cm – 46,5 kg – 426W
H60 cm x W42,7 cm – 55,3 kg – 511W
H60 cm x W49,2 cm – 64,1 kg – 596W
H60 cm x W55,7 cm – 72,9 kg – 682W
H60 cm x W62,2 cm – 81,7 kg – 767W
H60 cm x W68,7 cm – 90,5 kg – 937W
H60 cm x W75,2 cm – 99,3 kg – 1022W
H60 cm x W81,7 cm – 108,1 kg – 1108W
H60 cm x W88,2 cm – 116,9 kg – 1193W
H60 cm x W94,7 cm – 125,7 kg – 1278W
H60 cm x W101,2 cm – 134,5kg – 1363W

( Puissance EN442, 75/65/20, Δt 50°C)

Technologies

Highly resistant, cast iron has an extraordinary quality of heating, it has survived the centuries (used for heating over 150 years).

Made in Europe, the BELLE EPOQUE cast iron radiators come in several heights and finishes upon request. Available in Glossy White, Matte Black, Black Pearl, Cast Iron Gray or in such rarer finishes as Antique Gold and Antique Copper. They benefit from the latest manufacturing technology and are finished with fume-free, non-toxic and environmentally friendly paints.

Maximum operating pressure: 8 bars. Pressure testing: 10,50 bars. Maximum output: 110°C Exponent: n = 1.2593

Installation

Imperative : The quality of water is required to meet the standards VDI 2035 for the cast iron radiators : a low conductivity below 100 μS.PH, a TH of 0.2 and a PH between 7 and 10. More information on : 

https://www.cinier.com/es/belle-epoque/

CAST IRON model, run by professionals suitable for handling and weighing the model
We recommend to use sleeving kits to minimize installation completion.
Add to a wishlist
Create a new list in order to add products.