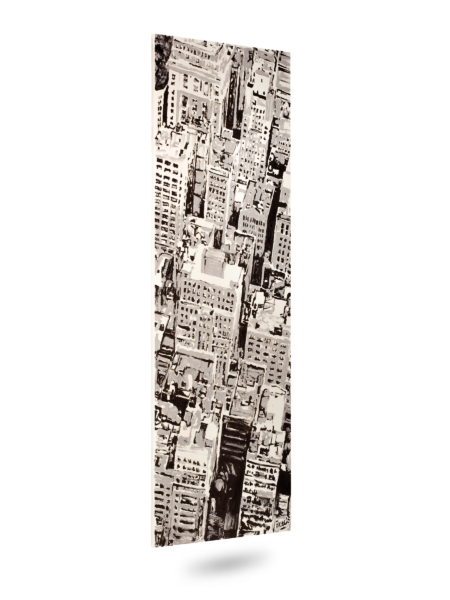 Manhattan
Radiadores contemporáneos
La obra pictórica del artista francés, Patrice Palacio, que figura en Drouot
La obra pictórica del artista francés, Patrice Palacio, que figura en Drouot
Manhattan
Un modelo excepcional, pintado a mano por el artista, que muestra una vista por avión, cada vez única, de Paris.
Detalles

Radiador disponible en 1 dimensiones :

Versión eléctrica : 1500 W o 1900 W en versión turbo.

Versión agua caliente : 1312 W o 1842 W en versión turbo.

Made in  France.

Tecnologías

Después de 7 años de investigación y desarrollo, los talleres CINIER desarrollaron la piedra OLYCALE®: una piedra natural, triturada y luego reestructurada específicamente con el fin de emitir un calor muy potente.

La piedra Olycale® posee múltiples beneficios:

Térmica: rendimiento de acumulación y de restitución del calor (calidad de la pareja radiación/inercia térmica, que permite "acumular" y "suavizar" la emisión de calor)
Táctil: suavidad del material y contacto al tacto muy agradable.
Diseño: finura de la Piedra para la creación de verdaderas esculturas de arte.
Vida útil larga y solidez del mineral.
Ecológico:  De origen natural (una montaña de los Pirineos en Francia), la piedra Olycale® está compuesta principalmente de materiales naturales.

Verdadera alternativa al acero, hierro o aluminio, la piedra OLYCALE®, por sus propiedades de radiación incomparable, es el material predilecto de la comodidad.
Add to a wishlist
Create a new list in order to add products.