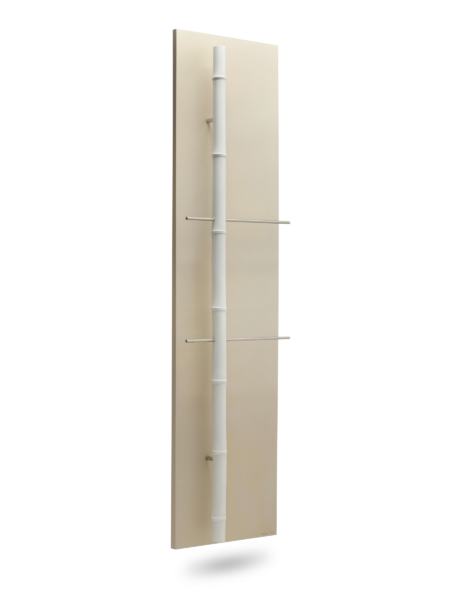 Bambou
Colección Radiadores Toalleros
Vegetal y contemporáneo
Vegetal y contemporáneo
Bambou
Un radiador secador de toallas original para los amantes de la naturaleza.
Detalles

Colores disponibles: → CINIER carta de colores

Realizable en todas las pátinas de colores de los matices CINIER.

Radiator available in 1 Dimension :

Versión eléctrica: 1000 W o 1450 W en versión turbo, Option Hot Air Blowing: +1000 W.

Versión agua caliente : 892 W o 1256 W en versión turbo, Option Hot Air Blowing: +1000 W.

Thickness 30 mm.

Made in France.

Tecnologías

Proporcionando una comodidad excepcional, los radiadores CINIER se fabrican con piedra Olycale® : una piedra natural procedente de los Pirineos franceses. Irradiando una gran superficie, la piedra Olycale difunde un calentamiento de una calidad incomparable.

Cada radiador CINIER está estudiado y diseñado para ofrecer un confort de calefacción excepcional. Su tecnología se basa en 3 cualidades esenciales:

La radiación de la Piedra Olycale®
El efecto de masa/inercia térmica
La baja temperatura de emisión de calor mediante la regulación y las grandes superficies de difusión

Piedra natural de color blanco procedente iedra natural de color blanco procedente de los Pirineos, la piedra Olycale® se machaca y luego se reestructura específicamente en los talleres Cinier para emitir un calor muy potente.

Ahorro de energía: al adaptar la potencia de su radiador a sus necesidades reales, el termostato CINIER puede reducir sus necesidades de energía hasta un 20%.

Smart Hot Air Blower: quietly and efficiently, it achieves the rise of temperature in a very fast time(+ 2/3 ° C in less than 10 minutes in your bathroom). During the off-season, Smart Hot Air Blower will also heat the room very quickly without the hydronic version boiler on.
Add to a wishlist
Create a new list in order to add products.