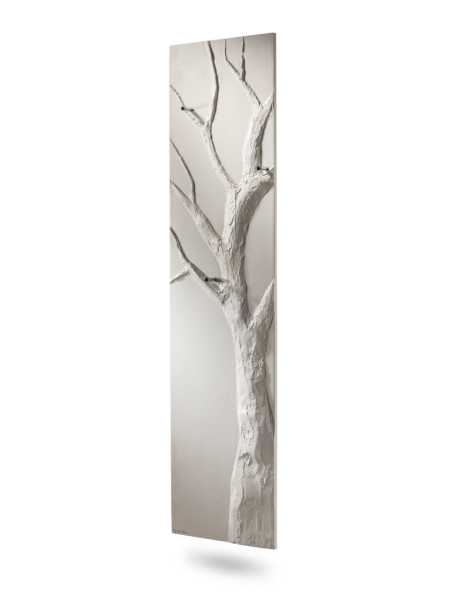 Arbre bain
Designer Towel Warmers
Modern and imaginative
Modern and imaginative
Arbre bain
Arbre Bain is a towel warmer with a very harmonious and original design. It brings exceptional radiance and comfort to contemporary bathrooms. Its soft decoration is based on nature. 3 chrome Dornbracht pads allow you to dry towels or bathrobes.
Details

Available Colours: → CINIER colour Chart

Hand painted by the artist. Custom color possible. Each piece is unique.

Dornbracht coat hook with chrome finish + Olycale® stone.

Radiator available in 3 Dimensions :

Electric version : 650 W

Hydronic version: 579 W

Electric version : 750 W, Option Hot Air Blowing: +1000 W.

Hydronic version: 669 W, Option Hot Air Blowing: +1000 W.

Electric version : 1000 W or 1400 W on boosted version, Option Hot Air Blowing: +1000 W.

Hydronic version: 892 W or 1256 W on boosted version, Option Hot Air Blowing: +1000 W.

Made in France.

Technologies

Olycal® Stone: After 7 years of research and development, Atelier CINIER have developed the Olycal® Stone: The olycal stone is crushed at the initial stage of production then restructured in the Cinier workshop following and exclusive patented process allowing heat to be emitted with high efficiency.
The heating element: HYDRONIC model (European standards EN442-2, control by Cetiat laboratory) or ELECTRIC model (CE electricity).
Boosted version: a new option that will allow you to increase the heating power by 40% in either the hot water or electric versions.
Saving energy: while adapting the power of your radiator to your real needs, CINIER thermostat can reduce your energy needs up to 20%.
Smart Hot Air Blower: quietly and efficiently, it achieves the rise of temperature in a very fast time(+ 2/3 ° C in less than 10 minutes in your bathroom). During the off-season, Smart Hot Air Blower will also heat the room very quickly without the hydronic version boiler on.
More information : FAQ Technologies CINIER

Installation

It requests 2 people

Electrical version connection:

standard 230 V supply – X3D thermostat included – Installation instructions on request

Hydronic version connection:

20 cm center-to-center distance with a 3 cm height difference between the start and the return – Notice and connection diagrams on request

Thermostatic valve, adjustment tee and flexible hoses are supplied as standard with each CINIER radiator
Add to a wishlist
Create a new list in order to add products.