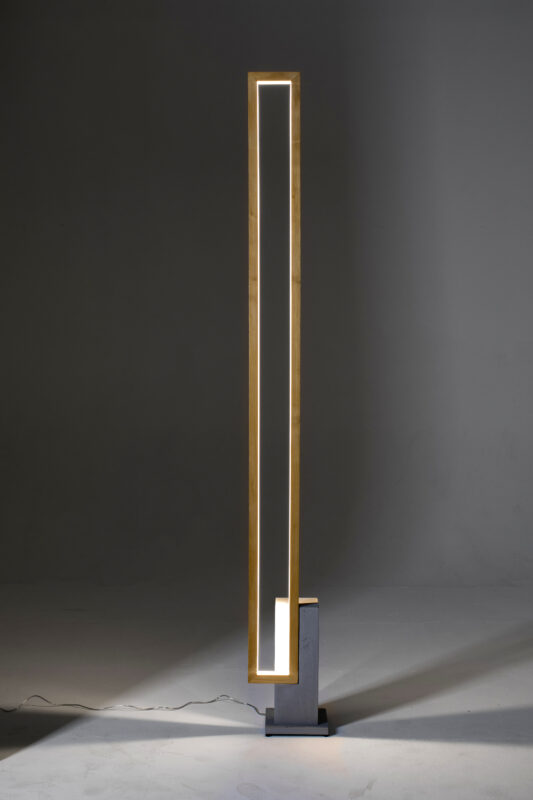 Miré Wood
Illuminazione LED
Natural, chic and contemporary
Natural, chic and contemporary
Miré Wood
Miré Wood LED Light is a high-end natural ash luminaire with a hand patinated base finished in raw grey concrete or Old Gold finish.
During the day, the Miré Wood LED street lamp is a decorative accessory. At night, it is illuminated by 700 LEDs. The target wood can be adjusted to automatically change the intensity of the light frame by simply using the dimer on the Olycale® stone base. On/Off foot switch with 3 meter transparent cable included.

Details

Height: 8ft 1.6 / 248 cm

Width: 9 inches 1/4 / 23.5 cm

Frame: natural wood (French ash)

Power supply 100V to 277V. CE / UL approved transformer included.

Made in France.

Technologies

Power consumption: 60 W

Lighting power: from 1000 to 3800 Lumens.

3000K warm white LEDs or 4000K neutral white LEDs.

To connect to a simple plug. Push button and transparent cable included. Dimmer on the base.

At equal power, the Miré Wood LED luminaire offers an additional 75% energy saving compared to a standard lighting fixture.
Add to a wishlist
Create a new list in order to add products.