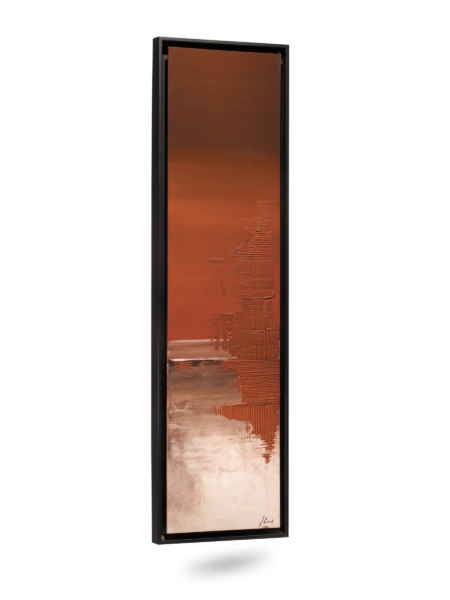 Dock granit
Collection Greenor
Espíritu de viaje
Espíritu de viaje
Dock granit
Desde Nueva York hasta Amsterdam, desde Marsella hasta Shanghai, el universo de los "docks", cuencas de puertos, es un conjunto de los lugares a la vez industriales y marítimos, donde los intercambios se mezclan con colores herrumbrosos intensos patinados por los viajes.
Johanne Cinier ha encontrado su inspiración en ello para proponer esta pieza única.
Detalles

3 colores de armazón de metal disponibles: blanco, gris, negro.

Radiador disponible en 1 dimensión : 190 x 54 cm

Agua caliente(75/65/20℃), V③ 3740 W + V② 2750 W + V①1700 W.

Reversible (calefacción/ aire fresco) :

Agua caliente, baja temperatura(55/45/20℃), V③ 2170 W + V② 1450 W + V① 830 W.

Agua helado, chiller(7/12/27℃), V③ 1600 W + V② 1200 W + V① 600 W.

Made in France

Tecnologías

Acabado Olycale, excelente radiación de calor.
En verano, Una difusión de aire fresco ecológico – sin fluido refrigerante. En invierno, optimizando las instalaciones de calefacción de baja temperatura (agua de 50°C, bomba de calor que utiliza las energías renovables, caldera de condensación).
Dimensión: 190 x 54 cm. Peso: 51 à 58 kg.
Greenor es el radiador reversible caliente-frío más silencioso del mundo (presión sonora de 14.8dB – Primera velocidad a 1 metro del aparato).
Greenor® es una patente internacional PCT/FR2010/00321 de los Talleres CINIER.
Greenor está normalizado.Normas CE :

EN 60335-2-30, EN 55014-1 (Ed 2006), EN 61000-3-2 (Ed2006) y EN 61000-3-3/A1 (Ed 1995/01): para el mercado europeo.
UL 1995, Issue:2011/10/14 Ed:4 UL "Standard for Safety Heating and Cooling Equipment" para el mercado norteamericano.
CSA C22.2 No. 236, issue:2011/10/14 Ed:4 "Heating and Cooling Equipment" para el mercado canadiense.
Add to a wishlist
Create a new list in order to add products.