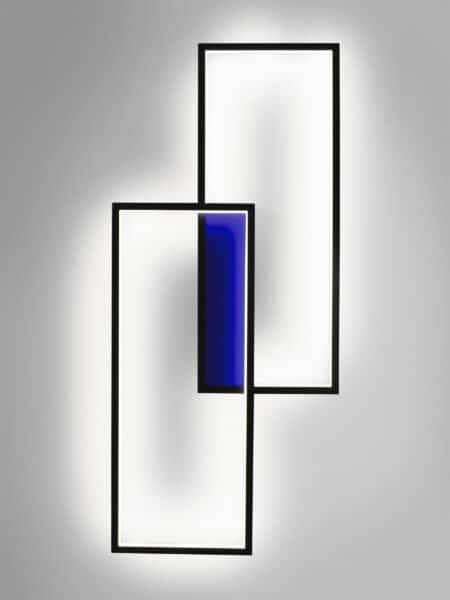 Duo LT
LED LIGHTING
High performance LED wall light
High performance LED wall light
Duo LT
Create artistic scenarios.

Simple and elegant, the contrast of LED effect brings a touch of vitality to the room.
Made in France, design Johanne Cinier.
SAVE ENERGY :
Selecting CINIER LET LED products is choosing to reduce energy consumption of your home and our planet.
Details

Dimension: H152 cm x L67 cm.

White LEDs (3000K* or 4000K*): Power consumption LEDs 60 W maximum. Lighting power from 0 to 4800 Lumens. Weight: 8.40 kg.

White LEDs + RGB colors: Power consumption LEDs 60 W maximum. Lighting power of 1900 Lumens. Weight: 8.40 kg.

Option: White or black steel frame. Central box in royal blue or made to measure. Realizable in RGB version (change of color of the LEDs). Other custom colors.


Made in France

Technologies

Consisting of 600 high-power LEDs, Cinier LT provides powerful indirect lighting with a unique design.

At equal power, the LT LED luminaire offers an additional 75% energy saving compared to a standard lighting fixture.

The color option RGB: a 9-way colour configuration to create personalized mood light effects not only for the eye but also for the mind.

CE: warm while 3000K, neutral white 4000K. 24V transformer, driver, and remote control included. Voltage: 100V to 277V. CE/UL norms for the transformer.

The remote control delivered with 100% white models commands both the frame light and the bracket light. A switch is required for all the RGB frame models to command the LED light of the bracket. The remote-control commands only the colour mix of the frame.

Two frame options: white lighting frame and black lighting frame.

Add to a wishlist
Create a new list in order to add products.