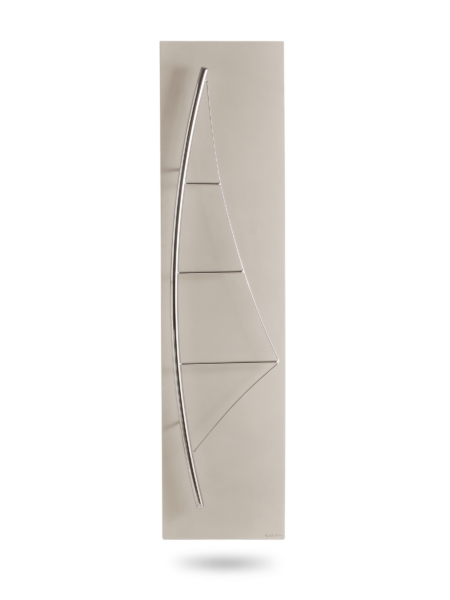 Voile épure
Badwärmer Collection
Eleganz und pure Schönheit…
Eleganz und pure Schönheit…
Voile épure
Ein Modell das das Herz aller Meerliebhaber höher schlagen lässt
Segel aus poliertem und verchromten Stahl. Praktisch für Badetücher und Bademäntel.
Details

Verfügbare Farben: → CINIER farbkarte

Heizkörper verfügbar  in 1 Abmessungen :

Elektroversion : 1000 W ou 1400 W en version boostée, Option Hot Air Blowing: +1000 W.

Warmwasserversion : 892 W ou 1256 en version boostée, Option Hot Air Blowing: +1000 W.

Made in France

Technologien

Die, einen außergewöhnlichen Komfort verschaffende, CINIER Badwärmer sind im Olycalestein ® angefertigt: ein natürlicher Stein aus den französischen Pyrenäen. Auf einer großen Oberfläche strahlend, verbreitet der Olycalstein eine Wärme von unvergleichbarer Qualität.

Um einen außergewöhnlichen Heizkomfort zu bieten, wird jeder Cinier Heizkörper individuell entwickelt. Die Technologie beruht auf 3 Haupteigenschaften:

Die Wärmeabgabe des olykalen Steins
Der Wärmemasseneffekt
Niedriger Energieverbrauch dank der intelligenten Regelung, sowie der großen Wärmefläche

Der Olykalstein wir zuerst gemahlen und dann wieder zusammengemischt damit er eine optimale Wärmeausstrahlung erreicht.

Wegen seiner unvergleichbaren Eigenschaften, was die Wärmeabgabe betrifft, ist derOlykalstein eine echte Alternative zum Stahl, Gusseisen oder Aluminium mit vorzüglichem Heizkomfort.

Olycal® Stone: After 7 years of research and development, Atelier CINIER have developed the Olycal® Stone: The olycal stone is crushed at the initial stage of production then restructured in the Cinier workshop following and exclusive patented process allowing heat to be emitted with high efficiency.
The heating element: HYDRONIC model (European standards EN442-2, control by Cetiat laboratory) or ELECTRIC model (CE electricity).
Boosted version: a new option that will allow you to increase the heating power by 40% in either the hot water or electric versions.
Saving energy: while adapting the power of your radiator to your real needs, CINIER thermostat can reduce your energy needs up to 20%.
Smart Hot Air Blower: quietly and efficiently, it realizes the rise of temperature in a very fast time(+ 2/3 ° C in less than 10 minutes in your bathroom). During the off-season, Smart Hot Air Blower will also heat the room very quickly without the hydronic version boiler on.
Add to a wishlist
Create a new list in order to add products.