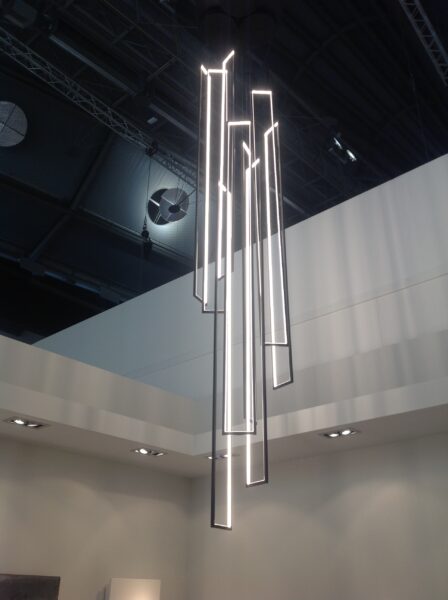 Cascade Miré – 9
LED LIGHTING
Ceiling suspension Mire
Ceiling suspension Mire
Cascade Miré – 9
Spectacular pendant LED lamp. CASCADE LT is a custom-made luminaire for interiors with high ceilings. In 9 elementS version, its size can vary from 4 meters to more than 12 meters high.
True sculpture, the Cascade LT luminaire must be connected to a switch.
Details

Weight: 28.5 kg

H400 x W70cm – possible custom up to 12 meters high.

Steel frame: matte black color.

Power supply 230 V or 120 V. CE – Transformer listed CE / UL included.

Made in France.

Technologies

Consisting of 5076 high performance LEDs.

For the same power, the LT Cascade suspended luminaire saves 75% energy compared to standard lighting

Lighting power: 32202 Lumens.

Power consumption: 720 W max.

Clear LEDs (warm 3000K * or 4000K * neutral) Warm white, subtle and minimalist or neutral white."
Add to a wishlist
Create a new list in order to add products.