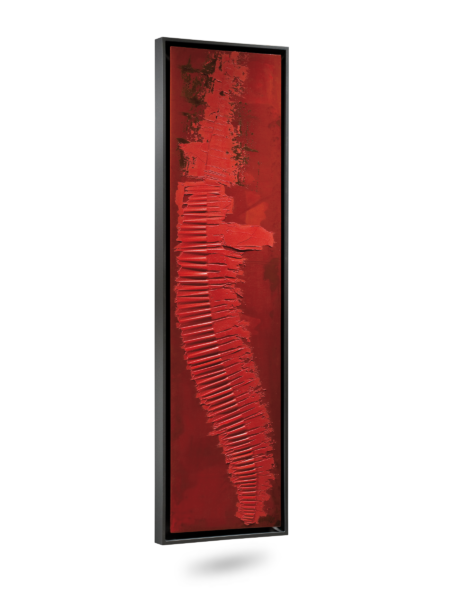 Tribal rouge
Greenor® Collection
Minerale Inspiration …
Minerale Inspiration …
Tribal rouge
An artistic piece with an exceptional design. A true painting and an object of art, each piece painted with natural pigments is accompanied by its certificate of authenticity.
Details

3 Metallrahmenfarben: Weiß, Grau, Schwarz.

Heizkörper verfügbar  in 1 Abmessungen : 190 x 54 cm

Wärme, V3 2740 W + V2 2750 W + V1 1700 W.

Wärme-und Klimapaneel (reversibel) :

Wärme(Hochleistungs-Heizmodus), V3 2170 W + V2 1450 W + V1 830 W.

Kaltes (Kühlmodus), V3 1600 W + V2 1200 W + V1 600 W.


Made in France

Technologien

Auf die Vorderseite einer Olycale®-Steinplatte gekleidet.
Greenor gibt es in zwei Ausführungen : Wärmepaneel & Wärme-und Klimapaneel (reversibel).
GInternationales Patent PCT/FR2010/00321 für Weltneuheit Greenor®. Anerkannt von OSEO Innovation (fr. Staat) für erneuerbare Energien.
Der Greenor ist das weltweit leiseste reversible Wärme/Klimapaneel mit einer Messung von 14.8dB (bei Geschwindigkeitsstufe 1, Entfernung vom Gerät 1m).
Durch die Nutzung von Wasser als Heiz- oder Kühlflüssigkeit leistet Greenor® einen wichtigen Beitrag zum Umweltschutz.
Cinier Greenor hat folgende Normalisierung :

CE norms : EN 60335-2-30, EN 55014-1 (Ed 2006), EN 61000-3-2 (Ed2006) und EN 61000-3-3/A1 (Ed 1995/01) : für den europäischen Markt.

UL 1995, issue: 2011/10/14 Ed: 4 UL "Standard for Safety Heating and Cooling Equipment" für den Nordamerikanischen Markt.

CSA C22.2 No. 236, issue:2011/10/14 Ed:4 "Heating and Cooling Equipment" für Kanada.
Add to a wishlist
Create a new list in order to add products.